Rent a bus in Kraków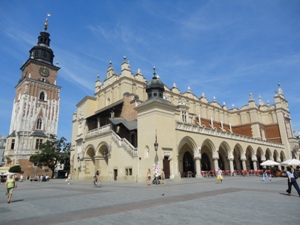 Kraków is an excellent choice as a destination for your next journey to Poland: you will be impressed by the many sightseeing attractions and cultural monuments of the city as well as by the interesting sightseeing destinations close to Kraków. If you need to hire a coach, rent a minibus or charter a microbus with driver for your travel party, we can provide you with the best suitable bus for your individual needs. We can take you by bus on a city sightseeing tour of Kraków as well as on a bus excursion to the salt mines of Wieliczka, to the concentration camp of Auschwitz-Birkenau or to any other destination of your choice. For example, we rent out buses for:
Any kind of bus transfer from Kraków: the bus rental company "Poland Bus" allows you to rent buses of different sizes for any number of passengers or to rent small electric "Melex" vehicles and microbuses with driver for your sightseeing tours with a maximum of eight participants. For larger groups of 30, 40, 50 or 60 passengers, we can also rent out coaches with driver who will pick you up at the place and time of your choice and carry you from one point within Kraków to the other.
Transfers from and to the airport: upon your arrival at Kraków airport, we can pick you up by bus, minibus or microbus; upon your departure, we can take you to the airport by chauffeur-driven coaches, minibuses and microbuses.
City transfers within Kraków: transferring a travel party by public transportation within Kraków can sometimes be really difficult. For your transfers from one place to the other within Kraków or for sightseeing tours in Kraków, we recommend you to rent a bus from Kraków. With pleasure will our coaches, minibuses and microbuses with driver carry you from any point in Kraków to any other or take you to the sightseeing attractions and cultural heritage of Kraków. Discover Kraków by bus, minibus, microbus or Melex: we will advise you with pleasure!
Regional and national bus transfers in Poland: are you planning a stay in Kraków and would like to discover the surroundings of Kraków as well? We will happily rent you out buses with driver for any imagineable transfer rides and sightseeing tours in the surroundings of Kraków as well as in entire Poland. Be it a bus ride within just a few kilometers from Kraków or a national coach transfer across entire Poland: our charter coaches with driver are always waiting for you.
Your charter bus reservation in Kraków
No matter if you want to order a simple bus transfer or sightseeing tour, a bus excursion or a long-distance coach travel itinerary: the team of "Poland Bus" can help you with your charter coach booking and advise you upon bus rental, minibus charter and microbus booking in Kraków. Write us your requirements at ; our professional office staff is looking forward to your coach hire request and will be pleased to inform you about availability and pricing of our buses with driver.