Charter coach booking in Katowice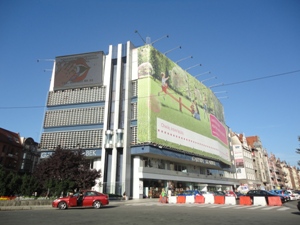 Do you wish to discover the city of Katowice or its surroundings, but don't yet know where to get a means of transportation? With pleasure will we provide you with a local vehicle: the team of the coach hire office "Poland Bus" can rent you out buses with driver for large passenger groups as well as minibuses and microbuses for small travel parties.
Examples for charter bus rides
Our microbuses, minibuses and full-sized buses are for example available for the following kinds of transfers and sightseeing tours within, to and from Katowice:
Airport bus transfers: you wish to travel comfortably and without encountering the troubles of public transportation from the airport to the city of Katowice? Our buses with driver can wait for you upon your arrival and take you quickly, safely and reliably to any destination in Katowice, for example to a hotel, to a sightseeing attraction or to an event location. With equal pleasure will we carry you to destinations in the surroundings of Katowice by microbus, minibus or coach and pick you up at any meeting point to take you to Katowice airport.
City transfers by bus: the ideal solution for travelling as a group from one spot to the other within Katowice is to order a city transfer by bus. We will be pleased to provide you with comfortable buses of any size for your bus transfers within Katowice.
Sightseeing bus tours: our experienced bus drivers from Katowice are anytime at your disposal for sightseeing tours within Katowice and can take you by bus, minibus or microbus to any tourist attraction of your choice. With pleasure can we also help you hire a tourguide from Katowice who will show and explain you the sights of the city during your bus tour.
Regional and national bus transfers: do you wish to visit a destination or an attraction outside of the city of Katowice? No problem: the coach hire company "Poland Bus" can happily arrange your bus transfers and bus excursions to the surroundings of Katowice and does also offer you the possibility to hire buses, minibuses or microbuses for transfers to any destination in the surroundings of Katowice and in entire Poland. Moreover, we can also carry you by coach to destinations in Czech Republic, in Slovakia and in entire Europe.
Rent a bus in Katowice
If you want to rent a bus in Katowice or if you need any kind of information about bus transfers, coach tours, bus excursions and coach travel from Katowice, please refer to ; we will be pleased to inform you about pricing and availability of our microbuses, minibuses and buses with driver.